99 Drams of Whiskey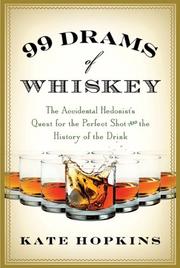 99 Drams of Whiskey: The Accidental Hedonist's Quest for the Perfect Shot and the History of the Drink
; 2009
WorldCat•LibraryThing•Google Books•BookFinder 
As you can see above, the title of this book is a mouthfull, and rolls off of the tongue like melting snow off of a roof. I simply call it 99 Drams or 99 Drams of Whiskey.
This was my first book, and it shows, admittedly. It is clumsy in areas, and goes off on tangents unrelated to whiskey. This is a flaw in the book.
However, that admission aside, there's a reason for that approach – I was trying (and am still trying) to do something a bit different when it comes to writing about food history. I believe that context is important, and that most people won't go out of their way to read an in-depth history on a topic, but more will go about to visit distilleries and drink whiskey with their friends. What I was trying to do, and I believe succeeded in some measure, was juxtapose the two narratives – a linear history of whiskey smacked up aside a linear travel journal of two friends trying to understand how a commodity that is taken for granted fits into the larger story of their own lives. And I wanted to do this without buying the nonsense that the PR companies were trying to sell me – selling the rolling hills of Scotland, or the bluegrass of Kentucky is mostly romantic bullshit.
To that end, I believed I succeeded. Most people who have read this book understood this approach, but there were some…well, let me call them "less than informed" folks, who believed that either a)  Not writing about the romantic aspects of whiskey was blasphemous, or b) I was intending to write the next Julie and Julia, simply because I was being sold to them as a food blogger. To that end, I didn't meet their expectations, but I was never going to.
But, like I said, quite a few people enjoyed my take. Here's what a few of them had to say about 99 Drams of Whiskey:
"…Hopkins's enthusiasm for giving us the lowdown on the best tasting brands makes this book well worth sipping slowly." – Playboy

"Hopkins is an entertaining storyteller, which works in a book dedicated to a storied beverage." – Portland Mercury
"… one of the best whisky books of the year." – WhiskyCast
".. a pleasant and informative read." – Publishers Weekly
"(Kate) has an open mind about taste, is aware of the brand push and is honest about the entire experience. It's a refreshing perspective." – about.com
"99 Drams is a good read." – Pittsburgh Post-Gazette
"…this is a frequently hilarious story about researching a great topic." – Benito's Wine Reviews
"Kate Hopkins's 99 Drams of Whisky is a welcome addition to the literature on scotch." – Scotch Chix
"With the quality of her research beyond reproach, the casual drinker can take comfort in the accuracy of her claims and the inaccuracy of the whiskey snobs." – Eric Doss
"…the way in which (Kate) intertwines Irish, Scottish, Canadian and American whisky history is unique and a dram good read." – The Whisky Channel
How can you purchase this little ol' book written by little ol' me? Click on one of the graphics below!
Amazon
Barnes and Noble
Books-a-million
Indie Bound
Macmillan
Powells